A Checklist to Start Planning Your Renovation
Whether you are dreaming of a kitchen renovation, a bathroom remodel, basement or attic upgrades, adding an elevator, a home addition, decks or other changes, the process of planning and executing your home renovation or home remodel remains the same.
Zinran® Construction Services has put together a checklist to help you dream, plan, and engage us as your general contractor.
COVID-19 has changed the entire concept of timelines. We promise honest and realistic expectations in an era of supply-chain delays and sub-contractor waiting lists.
Zinran® CONSTRUCTION SERVICES renovation or remodel checklist
1. Dreaming
Write down and save photos of what remodeling you have in mind. Seek consensus with other family members. Make a list with two columns: 'must haves,' and 'nice to haves.' If you have time, go on home tours or to home shows to get fresh ideas. Save ideas you like in a Houzz Ideabook, on Pinterest or note design magazine pages, whatever works for you that you can share to describe your vision.
2. Engaging with Zinran® Construction Services.
Set up a phone meeting. We usually can talk with you by phone within a few days of your scheduling call. Make sure any contractors you are considering:
Have references for similar kinds of projects
Are licensed general contractors and only use licensed subcontractors
Hold themselves to craftmanship standards
Provide line-item proposals, not just one 'total-cost' figure, so you can modify the project based on your budget
Handle the entire project, including permitting, demolition, construction and cleanup, plus all the details of ordering materials, down to doorknobs and faucets.
Warranty their work.
Work in many styles, including the particular style you want
Have the necessary experience to do high-quality, dependable work
Zinran® Construction Services provides all of this and more.
3. Home visit
The next step is a home visit, usually within 1-2 weeks of the initial call. As we discuss your ideas, a critical first step is to determine if a drawing is necessary for permits and subcontractor bids. Drawings define the scope and outline the specifications. If you hire someone to do the drawings, make sure you own the drawings. This gives you freedom to select the contractor of your choice. If a drawing is required and you do not have one, we can schedule a draft person or a designer depending on the requirements. That process, including scheduling and drawing completion, can take as long as six to eight weeks.
4. Walkthrough with subcontractors
Subcontractors want to see the space and review drawings so they can make an accurate bid. Depending on the project, this can include skilled trades such as cabinet makers, electricians, plumbers, drywallers, painters, floor installers, heating contractors, insulators, carpenters and tile installers. We try to have all subcontractors attend one meeting, together, in your home, but multiple visits may be necessary. This may take another two weeks.
5. Bid compilation
Subcontractors submit their bids to us. We review them to make sure they are complete and correct. Changes and final estimates are rolled up to create a complete project proposal. This usually takes about two weeks. Then we meet with you to go over the detailed project proposal and discuss any changes that need to be made in scope, selections, budget. This can take one to three weeks depending upon the amount of revisions required. 
6. Acceptance
The right choice is a contractor who is reliable, dependable and experienced. Look for a contractor who provides realistic timelines and guarantees their work. When the project proposal is accepted and signed, and a down payment is made, the project is scheduled. We will provide a realistic timeline for project initiation and completion.
Preparing for the construction work
Depending on the extent of the remodel or renovation work, you'll want to prepare your space by removing furniture, wall art, and other items by decluttering and packing them away. Depending on the amount of storage, you could consider renting an offsite locker or onsite storage pod to keep your items secure.
Discuss with family members about safety and avoiding the construction zone and designate "construction free" areas for family use. Pay special attention to your pets, finding a safe space for them.
You will work with your contractor to plan ahead for any plumbing or power disruptions. Sometimes a temporary kitchen needs to be set up. This is all part of the process.
Enjoying the transformation to new spaces
While the process can be detailed, our clients say their new spaces are well worth the careful planning. Here are some "before and after" photos, where our clients' dreams came true.
Before
After
Woodbury kitchen floorplan redesigned with a huge island and expanded cabinetry to make this a spectacular working area.
Before
After
Woodbury living room updated from traditional to modern with new cabinets, flooring, fan, and solid granite fireplace surround.
Before
After
Woodbury 3/4 bath transformed into a glamorous powder room with tons of storage.
Before
After
New Brighton kitchen remodel, adding space, a center island and new cabinets and appliances.
Before
After
Lake Minnetonka master suite, with clean, contemporary design and much more natural light.
Before
After
St. Paul traditional bathroom updated to a brighter, more modern type of traditional style.
Before
After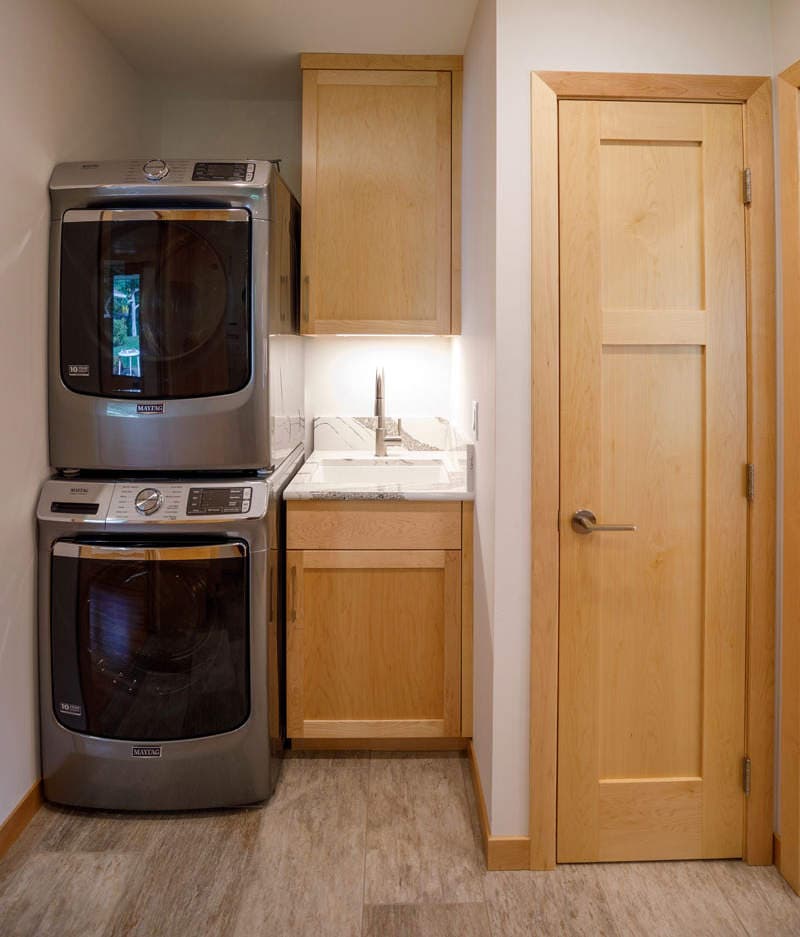 Edina laundry room modernized, with more efficient use of space.
Why Zinran for Home Remodels?
Licensed General Contractor
35+ years of experience
Licensed subcontractors
Luxury and commercial grade options
Craftsmanship standards
Integration with existing home style
Line-item proposals
Realistic timelines
References provided
Renovation Checklist
Design ideas and photos, needs and goals
Contractor discussion to evaluate fit (project design, expectations, experience, timing)
In-home meeting
Drawings
Subcontractor walkthrough
Bids and project proposal preparation
Presentation of proposal, adjustments as needed
Project scheduling, initiation
"[Zinran's] hallmarks are excellent communications and project management, with dependable quality work and attention to detail."
Bob G.